Support Local with a Serrano's Gift Card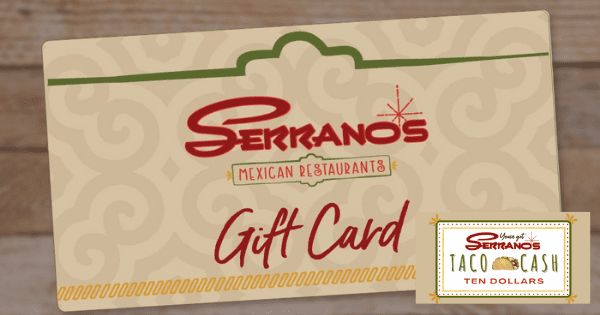 Due to supply chain issues, gift card sales are up 400% already this year! What's great about gift cards is that you can support local small businesses instead of buying goods from big box retailers.
We've brought back our best gift card deal ever! Customers who purchase a Serrano's gift card get a kickback ($5 for every $25 purchased). And while quantities last, those who purchase a gift card in any denomination will also receive a $5 off bonus to try Pronto, Serrano's new fast-casual Mexican food concept, when it opens in Tempe early next year.
Ask about out $10 Taco Cash, which makes a great stocking stuffer or token of appreciation for teachers, coaches, etc.
"As a family owned and operated local business, we appreciate the movement to support local businesses this holiday season and year-round," said Ric Serrano, CEO of Serrano's Mexican Restaurants. "We're offering our customers several options to help them buy local, including the return of our best gift-card deal ever."