#DeviceFreeDinner Comes to Serrano's
PLEASE NOTE: During Covid-19, we had to make changes to this program. We now offer $2.49 Kid's Meals with the purchase of an adult entree every Thursday and have renamed this "Serrano's Family Night." We will continue to update this post as we adapt the program based on current events. Your understanding is appreciated.
To help families easily connect and enjoy some time together, all five Serrano's locations are hosting family-focused #DeviceFreeDinner nights from 5-9 p.m. every Thursday, featuring discounted Kid's Meals and a set of "conversation starter" cards. Participation is completely voluntary and patrons will be asked if they would like to participate at seating.
The #DeviceFreeDinner concept was launched by Common Sense, the leading nonprofit advocacy organization dedicated to improving the lives of kids and families by providing the trustworthy information, education and independent voice they need to thrive in the 21st century.
Conversation Starters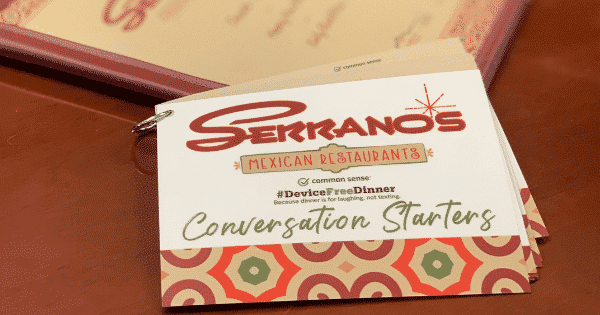 At Serrano's on #DeviceFreeDinner Thursdays, everyone will be encouraged to put their phones and devices in a basket on the table and engage in a set of "conversation starters" to prompt meaningful, eye-opening and, at times, hilarious conversations with friends and family members. The fun questions were designed for all ages – you never know when you might learn something new about someone you love. More importantly, #DeviceFreeDinner night offers parents a chance to connect with their children without electronic distractions.
"Our family is celebrating 100 years in business this year and we are taking the opportunity to truly get back to our roots, which are centered around faith, family and food," said Ric Serrano, president and CEO of Serrano's Mexican Restaurants. "The concept of Device-Free Dinners appeals to our values, and we look forward to offering deeply discounted kids' meals on Thursday nights as well."
Kid's Meals for $2.49
Kids' meal options include nachos, cheese enchilada, taco, bean and cheese burro, bean tostada, mini chimi plus chicken and cheese rollups, quesadilla, PB & J, chicken fingers, grilled cheese, two kids hamburgers plus side(s) and a drink. In addition to half off kids' meals ($2.49 for kids younger than 10) and conversation starters, Serrano's will have informational handouts available from Common Sense about the impact of screen time on children and families.
"Our devices keep us connected, informed and engaged, but dinnertime is an important time to just say 'no,'" said James P. Steyer, founder and CEO of Common Sense. "Everything from better grades to a healthier lifestyle has been linked to eating together regularly as a family. By having Device-Free Dinners, families will gain important family time and set an example for kids that we all need to carve out face-to-face conversation time in our lives."
Download the #DeviceFreeDinner Info Flyer seen below HERE.