Join Us for the 4th Annual Pink Out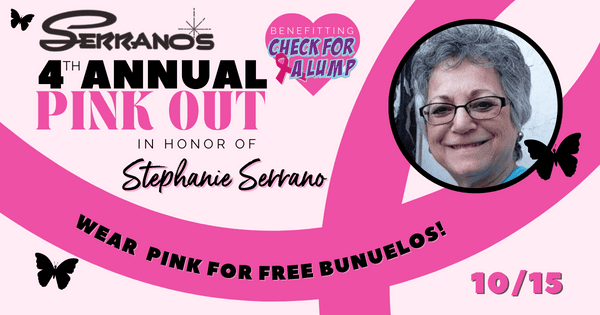 In honor of Breast Cancer Awareness Month in October, Serrano's Mexican Restaurants is offering three specials with a portion of the proceeds benefiting local nonprofit Check for a Lump.
Check for a Lump was founded in 2009 with the simple goal of encouraging women to perform monthly breast self-exams. Their mission has since expanded to providing free breast health education, mammograms, testing and direct assistance to breast cancer patients with wigs, support and resources in Arizona.         
Additionally, the Serrano family will host a "Pink Out" at all four restaurant locations on Sat., Oct. 15, 2022, in memory of former Serrano's co-owner and past Chandler City Councilmember Stephanie Serrano, who lost her battle to breast cancer in October 2019.
Anyone who wears pink into the restaurant that day will score their party a free order of pink-sprinkled buñuelos for dessert. Additionally, Check for a Lump has arranged for free mobile mammography at the Chandler Serrano's location from 8 a.m. to 5 p.m. (the RV will be parked behind the restaurant). Anyone interested in booking a free mammogram can call 480.967.3767.
"We all miss Stephanie and know that she would be proud of us aligning with a nonprofit like Check for a Lump to provide life-saving education and testing for breast cancer," said Ric Serrano, CEO of Serrano's Mexican Restaurants. "Anything we can do to help prevent other families from facing this battle is worthy of our support, so we're especially encouraged to have the mobile mammography unit at our Chandler location this year."
October specials will be available beginning Tues., Oct. 4, 2002, at all four Serrano's locations and will run through the end of October.
October Specials:
Pink Out Margarita Sampler | $9.99 Get your pink on with our house raspberry, strawberry, passionfruit strawberry, and watermelon margaritas!
Stephanie's Stacked Enchiladas | $12.99 Stephanie's favorite! This gluten-free friendly dish includes corn tortillas, black beans and shredded chicken stacked high and covered in tomatillo sauce and cheese. Served with a side of your choice.
Homemade Apple Crumble | $7.99 Our apple crumble à la mode with caramel sauce and cinnamon sugar.
"We are grateful to Serrano's Mexican Food Restaurant for hosting another fundraising event this year benefiting Check for a Lump to honor the memory of family member Stephanie Serrano who bravely fought breast cancer. Her blessed memory and event will help assist women in our community with life-saving mammograms, wigs and support. We appreciate the Serrano family and are privileged to share in Stephanie's legacy. Cheers to treasuring memories of her with every dish served," said Holly Rose, founder and chief executive director of Check for a Lump.
Go to the FACEBOOK EVENT
Learn more about CHECK FOR A LUMP & OCTOBER EVENTS