It's here – our answer feeding a bunch of folks for Game Day or just a regular Tuesday Night! Have your tacos and eat them too with our Serrano's "To Go" Taco Bar! Sounds fancy, we know but really it is convenient yumminess! Your kit includes: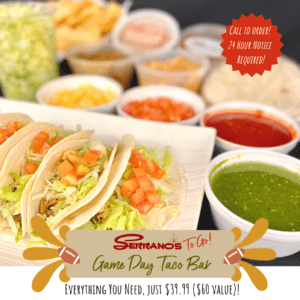 🌮 2 dozen taco sized tortillas
🌮 32oz of either shredded beef or chicken (or combo)
🌮 shredded lettuce
🌮 diced tomatoes
🌮 shredded cheese
🌮 8oz smooth hot sauce or tomatillo salsa
🌮 medium bag of chips
🌮 16oz chunky house salsa
🌮 16oz bean dip
🌮 heating instructions or pick up hot!
Everything you need to enjoy Serrano's at home at a great price! Just $39.99 ($60 value). Call the location near you to order. Then pick it up to heat up OR ready to eat!