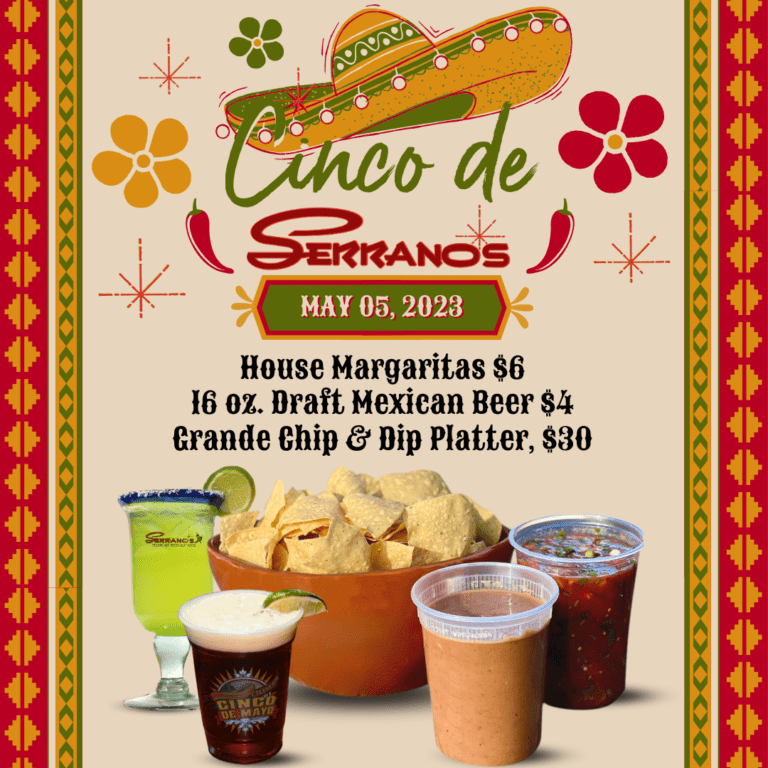 Serrano's is offering several deals the week of Cinco de Mayo, including $5 bonus cards with the purchase of every $10 in Taco Cash (good only on Taco Cash purchased between May 2-6). Taco Cash makes a great gift for teacher and nurse appreciation holidays in May, Mother's Day and graduation celebrations!
For dine-in customers on May 5th only, Serrano's will be offering $6 house margaritas and $4 16 oz. draft Mexican beer. Please note that online ordering and third-party delivery services will not be permitted on Cinco de Mayo. To-go phone orders will be accepted throughout the day, however, dine-in guests will be prioritized; no advanced orders over the phone.
For takeout customers, celebrate at home with any of Serrano's family packs. Serrano's signature chips and dips pack includes two bags of fresh tortilla chips, 32 oz. (that's 2 pounds!) of Serrano's famous bean dip and 32 oz. of our fresh, house-made salsa for $30. It's enough to feed a sizeable crew!