Introducing Pronto, Our Fast-Casual Concept in Tempe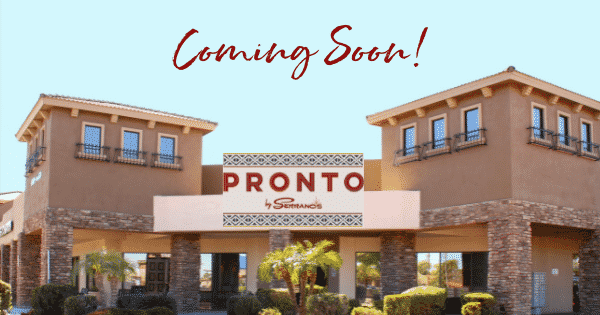 UPDATE! We are now open! Please see our website at https://prontoaz.com/ for details!
After much consideration, we are thrilled to announce a new fast-casual Mexican food concept at our Tempe location (6440 S. Rural Road). At Pronto by Serrano's, we serve up Sonoran-style Mexican favorites featuring fresh ingredients and flavorful combinations made to order. With an array of customizations, you never have to order the same meal twice! Start by picking a protein and add it to a burrito, taco, salad or bowl, and then go nuts with toppings, sides and sauces! We've taken our time-tested recipes made from scratch in the Serrano family kitchen, and adapted them for our Pronto modern, fast-casual setting.
Our Tempe location was closed for remodeling since late fall 2020. During this time, the family explored the opportunity of opening a new concept in the space that includes ordering at the counter instead of a traditional dine-in experience with servers. The goal is to provide the same Sonoran-style cuisine at a lower price point and with quicker turnaround time.
"We've learned a lot over the past two years and we know that fast-casual concepts have experienced significant recent growth," said Ric Serrano, CEO of Serrano's Mexican Restaurants. "Our Pronto concept will offer customers fresh, quality ingredients at an affordable price. We hope our loyal customers embrace Pronto and that we gain some new fans as well."
With a focus on "fresh, flavorful and familiar," Pronto will offer build-your-own combos featuring burritos, tacos, nachos, salads and more. Favorite Serrano staples like machaca, shredded chicken, asada steak, tomatillo pork and more will be offered. And customers will also be able to add the famous Serrano's bean dip, chips and salsa to their orders if desired.
"With our customizable menu options, our customers will have an array of meal options to choose from that are served up fast just the way they like it," Serrano added. "With Arizona State University a few miles up the road and numerous local businesses and busy families in the area, the fast-casual concept should be appealing to both our lunch and dinner crowds."
In the coming months, Pronto will be hiring to fill approximately 20 positions, including managers, prep cooks, food runners and dishwashers. To be the first to know about hiring opportunities, grand-opening information, contests and specials, sign up for Pronto's rewards program at prontoaz.com.
Follow @prontoaz on Facebook and @pronto.az on Instagram for more info. 
---
FAQ
Will Serrano's Famous Bean Dip Still Be Available? Yes, our original Bean Dip, Chips and salsa are available at Pronto.
When will the new location open? We are open now!
Will my favorite Serrano's flavors be available at Pronto? Get ready to experience many familiar flavors: Most of our same meats, rice, beans and more will be available at Pronto plus some fresh new favorites. Everything will made to order just the way you like it! Stay in touch with us as we reveal menu details and more!
---
6440 S. Rural Road, Tempe, AZ 85283 480-345-0044 (Grand opening, Fall 2021)