Serrano's October Specials Support Local Breast Cancer Nonprofit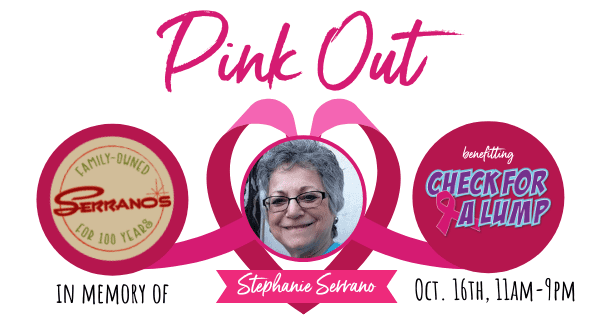 Restaurants to Host 'Pink Out' in Memory of Stephanie Serrano on Oct. 16
We're getting PINK to give to local women battling breast cancer.
In honor of Breast Cancer Awareness Month in October, Serrano's is rolling out three specials with a portion of the sales proceeds benefiting local nonprofit Check for a Lump.
Check for a Lump was founded in 2009 with the simple goal of encouraging women to perform monthly breast self-exams. Their mission has since expanded to providing free breast health education, mammograms, testing and direct assistance to breast cancer patients with wigs, support and resources in Arizona.
Serrano's To Hold Pink Out
Additionally, the Serrano family will host a "Pink Out" at all four restaurant locations on Sat., Oct. 16, in memory of former Serrano's co-owner and past Chandler City Councilmember Stephanie Serrano, who lost her battle to breast cancer in October 2019.
"We all miss Stephanie and know that she would be proud of our efforts to honor her memory and support a local nonprofit dedicated to making a difference in the fight against breast cancer," said Ric Serrano, CEO of Serrano's Mexican Restaurants. "There are too many families who have been impacted by this terrible disease, and we are proud to support Check for a Lump's efforts."
October specials will be available beginning Tues., Oct. 5, at all four Serrano's locations.
October Specials
Stephanie's Stacked Enchiladas: Stephanie's favorite dish includes corn tortillas, black beans and shredded chicken stacked high and covered in tomatillo sauce and cheese. Served with a side of your choice. Gluten free. $12.99
Pink Out Margarita Sampler: A sampling of our house raspberry, strawberry, passion fruit strawberry and watermelon margaritas. $9.99
Pumpkin Spice Churro Donut: A churro donut dusted with pumpkin spice and topped with vanilla ice cream, caramel drizzle and whipped cream. $6.99
"What a beautiful way to honor a loved one who fought breast cancer! Cheers to treasuring memories of her with every dish served," said Holly Rose, founder and chief executive director of Check for a Lump. "We appreciate the Serrano family selecting us as their benefiting charity to honor Stephanie Serrano and feel privileged to share in her legacy."