Chips + Dips
Chips
Our signature tortilla chips stay fresh in a resealable bag — 5.99
—
Bean Dip
8oz — 3.99
16oz — 6.99
32oz — 10.99
Half Pan — 39.99
—
Salsa or Hot Sauce
8oz — 3.99
16oz — 6.99
32oz — 10.99
—
Extra Hot Sauce or Pico
8oz — 5.99
16oz — 9.99
32oz — 19.99
—
Queso Fundido Dip
8oz — 6.99
16oz — 12.99
32oz — 21.99
—
Guacamole
8oz — 5.99
16oz — 9.99
32oz — 19.99
—
Seasoned Sour Cream
8oz — 3.99
16oz — 6.99
32oz — 12.99
Build Your Own Party Tray
ORDER BY THE DOZEN
Assorted mini items include:
Beef and chicken chimis — 14.99
Beef and chicken flautas — 14.99
Chicken & cheese rollups — 14.99
Jalapeňo poppers — 19.99
Entrees
Beans or Rice
16oz — 6.99
32oz — 9.99
Half Pan — 39.99
—
Tacos
Beef or Chicken
1/2 Dozen — 24.99
Dozen — 49.99
—
Enchiladas
Cheese
1/2 Doz. — 24.99
Dozen — 49.99

Red or Green Beef, Machaca, Chicken or Ground Beef
1/2 Dozen — 32.99
Dozen — 59.99
—
Tamales
Beef and Pork or Green Corn
Dozen — 29.99

With Sauce & Cheese
Dozen — 41.99
—
Buñuelos
Half Pan — 19.99
Build Your Own Entrees
Tortillas 9" Homemade
Dozen — 3.99
—
Taco Salad Shells
Each — 1.99
—
Meats
Red or Green Beef, Machaca, Shredded Chicken or Pollo Ranchero
16oz — 14.99
32oz — 28.99
Half Pan (serves 24-30) — 89.99
Full Pan (serves 50-60) — 179.99
—
Asadas
Steak or Chicken
Half Pan (serves 20-25) — 117.99
Full Pan (serves 50-60) — 235.99
—
Fajitas with Tortillas
Steak or Chicken
Half Pan — 117.99
Full Pan — 235.99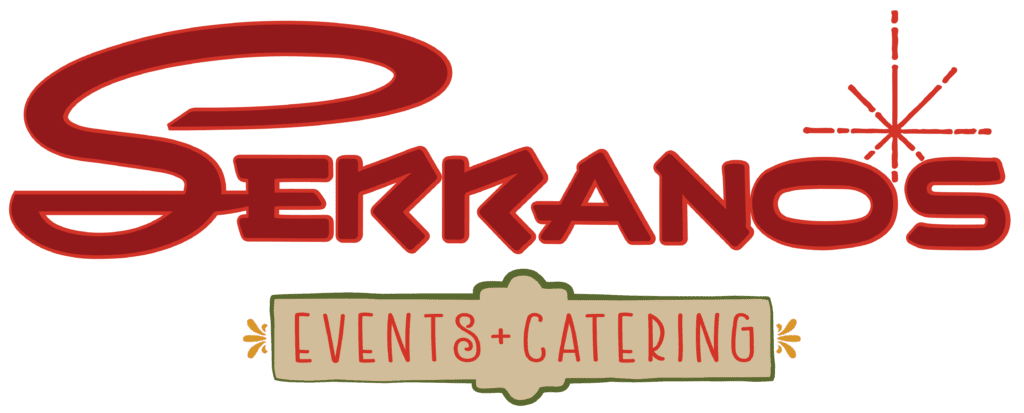 Let us help with your next event!
Serrano's offers in-house events at our Chandler location and off-site catering for any occasion. Think of us for grad parties, showers, birthdays, weddings, holiday parties and more! In-house event rooms available with updated neutral decor and audio/visual. Rooms available for parties of 20 to 120.
Need food but already have a venue? Serrano's caters to anywhere in the valley and offers custom packages tailored for your special event.