Serrano's Hosts 'Pink Out' Event in Memory of Stephanie Serrano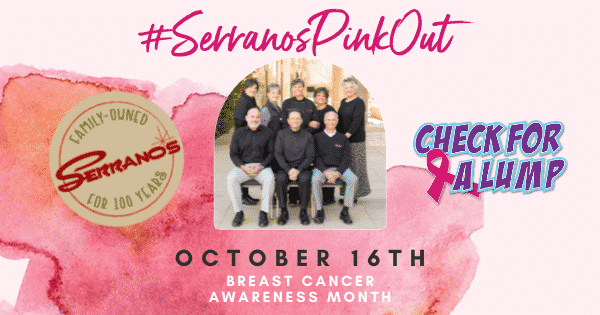 By Theresa Serrano-Keel, Serrano's Mexican Restaurants
October marks a significant occasion for my family as my sister, Stephanie Serrano, lost her six-year battle to breast cancer two years ago. Stephanie co-owned Serrano's Mexican Restaurants with me and my six siblings after growing up in the family business. She was also a co-owner of Brunchies in downtown Chandler. Stephanie championed community engagement and giving back, going so far as serving as a Chandler City Councilmember and on the board of directors for the Chandler Chamber of Commerce. Customers, neighbors, friends and colleagues remember Stephanie for her passion and commitment to our community.
In honor of Breast Cancer Awareness Month, I wanted to share a few ways the Chandler community can show their support:
Get your annual exam. As a family that has experienced tragedy from a breast cancer diagnosis, but also as a family that runs a business, we decided to team up with nonprofit Check for a Lump to host an event on Oct. 16 to raise money for the organization and to celebrate Stephanie's life.
Wear pink to raise awareness. All monthlong, wearing pink is recognized as a sign of support for breast cancer awareness. My family knows just how important awareness for this disease is, so we are hosting a "Pink Out" event on Oct. 16 at all our Serrano's Mexican Restaurants in the East Valley, where a portion of proceeds will go directly to Check for a Lump and raising breast cancer awareness. I encourage you to come out, wear pink, and partake in the festivities while also becoming "breast aware."
Use your voice. If you're unable to join us in person, there are ways you can support breast cancer awareness from the comfort of your own home. Social media has been vital, especially during the pandemic, for sharing resources, collecting donations through Facebook fundraisers, and educating people about breast health. A single post, comment, or share could help your friends and neighbors detect the symptoms of breast cancer early. We also encourage you to share pictures if you come out on Saturday using #SerranosPinkOut. See the Facebook Event.
I encourage everyone in the East Valley and beyond to educate themselves and their loved ones on how to detect breast cancer early. If you're able, please share resources with your friends and neighbors online. Together, our community can gain ground in the battle against breast cancer.