#ShopSmall on Small Business Saturday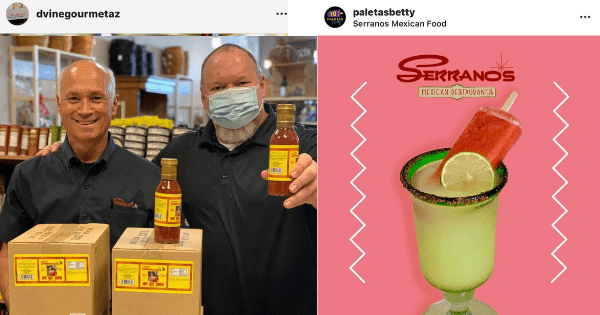 Small Business Saturday®, celebrated on Nov. 28 this year, continues to be an annual holiday shopping tradition — just one part of the larger Shop Small® Movement that supports small businesses like our family owned Serrano's Mexican Restaurants.
This year, we're offering $5 kickbacks for every $25 in gift cards purchased, as well as a Serrano's holiday bundle, which includes a $25 gift card, $5 kickback and choice of either Serrano's spice blend or jarred hot sauce for $30. We are also selling our popular red pork or green chile tamales by the dozen for $25. Tamales may be ordered online or over the phone; requires 24-hour notice (48 hours if ordering online).
According to research by American Express, 62% of U.S. small businesses reported that they need to see consumer spending return to pre-COVID levels by the end of 2020 in order to stay in business. When you Shop Small this holiday season – and all year long – you can help create a big impact.
Because shopping at local businesses helps promote vibrant communities, we wanted to shoutout a few of our local partners and encourage you to #ShopSmall with them as well:
d'Vine Gourmet: Earlier this year, we partnered with d'Vine to sell our jarred Original Salsa and Red Hot Sauce products at their south Chandler location (4955 S. Alma School Road, Chandler). d'Vine offers jams, mustards, candies, snacks and spices, in addition to favorite local brands, and they have also been including our products in custom gift baskets. We're grateful for their support!
Paletas Betty: Our Chandler location features unique drink specials on our new Test Kitchen menu made with delicious Chandler-based Paletas Betty frozen treats. We also have a freezer featuring an array of Paletas Betty flavors for sale near our hostess stand. If successful, we plan to expand this new paletas partnership to our other locations. Get your paletas today!
Sibley's West: Located across Arizona Avenue from us in Downtown Chandler, this gift shop offers products and brands from Arizona, including Serrano's Original Salsa and Red Hot Sauce. We have been partnering with Sibley's for several years and appreciate their passion for promoting all things Arizona, including Serrano's!