Phat Elvis is in the Building(s)!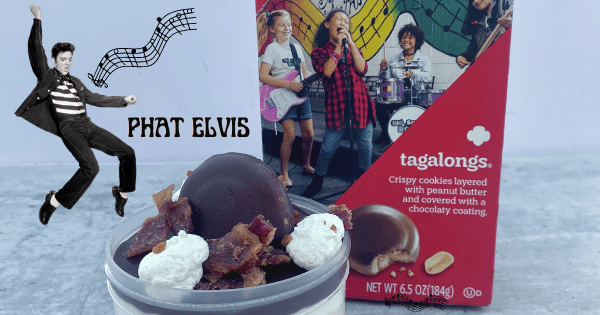 In support of Girl Scouts–Arizona Cactus-Pine Council (GSACPC) and the thousands of young entrepreneurial Girl Scouts selling cookies this season, Serrano's Executive Chef Lorraine Serrano created the "Phat Elvis," featuring Elvis Presley's favorites – peanut butter and bananas – along with the Girl Scout cookie, Tagalongs. Specifically it features a graham cracker crust, peanut butter cheesecake, whipped cream and crumbled Girl Scout Tagalongs mixed with bananas. It is topped with chocolate ganache, brown-sugar bacon and a bonus Tagalong cookie.
This is our third year participating in the Girl Scout Cookie Dessert Challenge and it's always fun to try out new recipes with everyone's favorite Girl Scout cookies! Chef Lorraine explains why the connection between Serrano's and Girl Scouts makes so much sense, "Our mother Eva Serrano founded Serrano's alongside our father more than 40 years ago. We applaud the entrepreneurial effort that Girl Scout cookie sales represent as the world's largest girl-led business."
The Phat Elvis featuring Girl Scout Tagalongs is also part of the Girl Scout Cookie Dessert Challenge and will be available throughout February at all four locations for $7.99. We'd love your vote for Best Dessert by clicking the link above! You need only vote once and NO registration is required! A portion of the proceeds from every dessert sold supports Girl Scouting in Arizona, a cause we are very proud to support.