We are Hiring for Pronto AZ!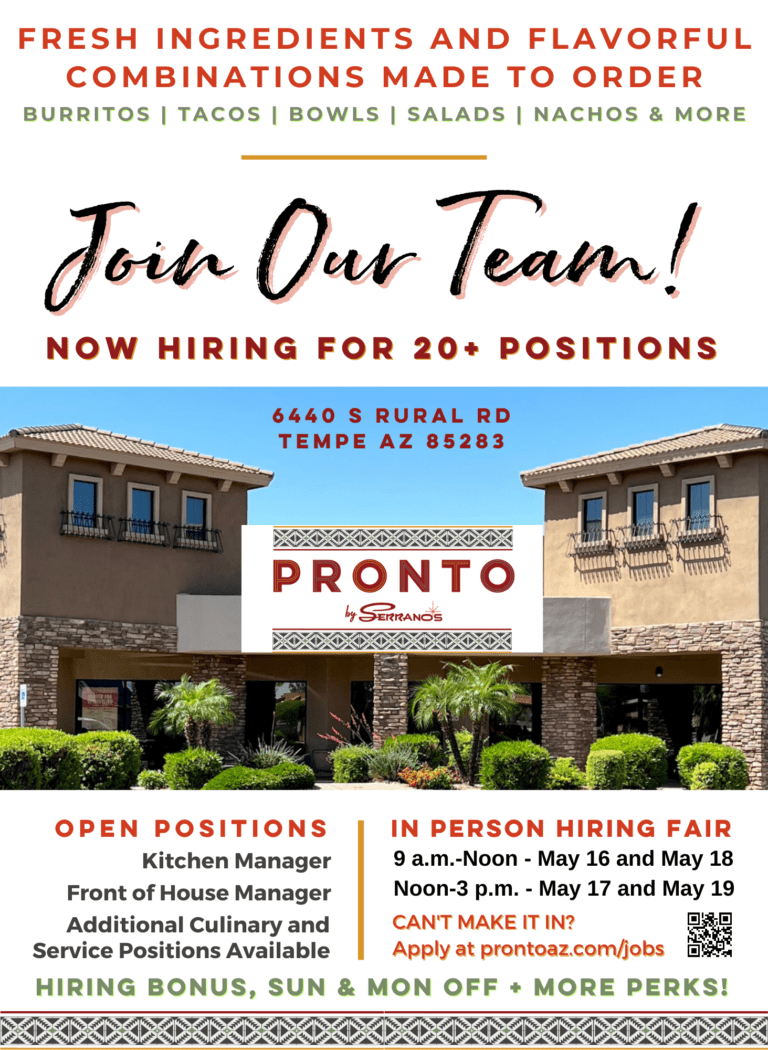 20 Positions Available at New Fast-Casual in Tempe
Fair to Be Held May 16-19, 2023
Pronto will be hiring to fill approximately 20 positions, including management, front of house/service/hospitality and back of house/culinary/prep positions. All employees will have the opportunity to expand their skill sets in culinary arts, service management and customer service as Pronto prides itself on its thorough on-the-job training. 
Join us for our upcoming Job Fair and apply in person between:
9 a.m.-Noon on May 16 and May 18
Noon-3 p.m. May 17 and May 19. 
Online applications may also be submitted at ProntoAZ.com/jobs
Qualified candidates must provide high-quality food, service and an excellent dining experience to customers. Other requirements include being a team player, having a passion for service, and possessing a strong commitment to providing each guest with an unforgettable meal.
Serrano's offers a family focused work environment with a dedicated team, competitive compensation, paid vacation and healthcare coverage. Pronto will be closed on Sundays and Mondays so employees may spend time with their families.
"We are eager to get Pronto fully staffed and opened, and we are excited to be welcoming 20 new team members into our family," said Sarah Serrano Licht, general manager of Pronto. "We are seeking exceptional candidates who will give our customers the best possible fast-casual experience at Pronto that will make them want to return again and again."
Open positions include:
Kitchen Manager: Kitchen manager is responsible for overall operations of the kitchen area within the restaurant. This manager hires staff, purchases food and stock, and ensures that all employees are trained on proper food preparation and kitchen safety techniques. Candidates must have at least one year of management experience in a restaurant environment.
Front of House Manager: The front of house manager oversees functions and employees in the dining room. The manager's main goal is to ensure that procedures are followed for ordering and serving guests. They ensure all team members act in a way that promotes guest satisfaction, and quickly work to handle any issues or complaints. Candidates must have at least one year of management experience in a restaurant environment.
Hospitality Hotshots: These team members assist in creating connection with our guests with job responsibilities at the counter, including educating our guests about Pronto's specials, drinks and house-made items. Hospitality Hotshots will also tend to guests at their tables, and clean and sanitize all aspects of the front of house, among other duties.
Culinary Crusaders: These team members provide our guests with a fresh, flavorful and familiar experience using the freshest ingredients and family recipes. Culinary Crusaders are integral to meal prep and kitchen cleanup, and provide guests with a personalized experience that is sure to keep them coming back for more.
About Pronto
At Pronto by Serrano's, we serve up Sonoran-style Mexican favorites featuring fresh ingredients and flavorful combinations made to order. With an array of customizations, you never have to order the same meal twice! Start by picking a protein and add it to a burrito, taco, salad or bowl, and then go nuts with toppings, sides and sauces! We've taken our time-tested recipes made from scratch in the Serrano family kitchen, and adapted them for use in our Pronto fast-casual setting. Owned and operated by the Serrano family, Pronto is the first fast-casual concept by Serrano's Mexican Restaurants.